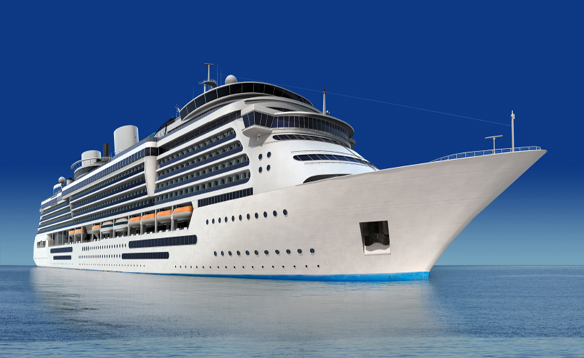 Cruising might sound like something you do when you get older. Think again!
The cruise lines are catering to every generation from tots to tea totelers.
We want a vacation experience – whatever it is, to over deliver. If we prefer to scale mountains or chill next to the pool, today's cruises offer both and everything in between. When we spend our hard earned cash on an unfamiliar experience, we should be willing to be more open minded, but naturally we still want to get our money's worth.
Being in the limousine business I know what luxury is all about and how to deliver it. When I set out to investigate cruise options for our next vacation, I had a discerning eye. I wanted quality and admittedly, I have a pretty high standard since I deliver nothing less through my own limo business.
For years the cruise industry has found ways to be innovative and creative. Over the past couple of decades it has incorporated new itineraries that bring the world to our feet through adventure and luxury. With the popular lines a guest's very whim is attended to with timely precision. And the food – don't get me started on the food.
We chose a European River cruise with a major line that had a superb reputation. We had already been on two ocean voyages, and I convinced my husband that a river cruise was the next way to experience cruising. He was reluctant and made me promise that if we cruised together again we would take a barefoot cruise on a sailing ship through the Caribbean. . . . OK, I can do that.
My research took me to the Viking Longships. They had been given the prestigious award of "Best River Cruise Ships" by Cruise Critic editors and Conde Nast Travelers readers' poll of 2015. I knew we were choosing wisely. These ships are known for their outstanding quality, innovative design much like a VIP Limo Service on the water with a choice of staterooms that rival any 5 star hotel. Unlike a hotel the views are never lacking and ever changing.
The other consideration is engine noise. Some river sailing vessels have a disturbing engine vibration that can be distracting. I wanted to steer clear of this and read that the Longships were equipped with energy-efficient hybrid engines. These offer far less vibration and are touted as the quietest on the river.
What else could they possibly throw into the works that would entice us to pick up the phone and put down a deposit? - The itinerary selection, of course.
Although they sail through China as well as Europe, my husband and I decided on Europe. The sail boasted immersive sightseeing of some of Europe's most outstanding historical locations. When all was said and done we decided on the "European Tour". It was 15 days and 4 countries. This extravagance was a 25th wedding anniversary gift. We had been saving for the big 2 5 and now we were blowing our wad.
We engaged one of our chauffeured town cars to pick us up and take us to the airport. We wanted to feel pampered right away. Our flight took us to New York Kennedy airport where we connected with another flight that landed us in our departure port city of Amsterdam. We were exhausted, but geared up to be spending the next two weeks relaxing, sightseeing, eating and meeting new people while taking in the concerts, museums, market places, and local cultures.
All in all we docked in 13 different cities along the Rhine and Danube Rivers. We didn't disembark for all 13 since the ship itself was the cushy lap of luxury that was called for on some days. No matter where we were, we drank in the experience and the sense of the county we were visiting. We often ventured away from our ship mates into the local neighborhoods where the shop owners appreciated the tourist differently and we could see another side of the city.
It was hard to choose a favorite stop, but if I had to pick one, it would be Vienna. It struck me for its charm and grandeur along with the welcoming warmth of the people. It was a combination of old world and contemporary offerings. We passed on some of the "must see" attractions and spent a good deal of our time people watching from the local coffee cafes. If that sounds boring to some I assure you it was not.
Vienna attracts artist and musicians and people from all walks of life. It is the home of many great composers like Beethoven and Mozart along with forward thinkers like Sigmund Freud. These minds went on to shape the city and their energy is still an underlying component to what makes this a magical place to visit.
With so many fabulous places to visit around the planet have you have stopped an wondered what it would be like if everyone could travel to any destination they dreamed of visiting?
If you're looking at cruising as your next venture out into the world, the choices are endless. Ocean voyages or river cruises, domestic or international, long or short – just choose and let yourself be at the mercy of a good time.
Bon Voyage!